The Local Area
Hear the silence.  Inhale the calm, fresh air.  See for miles.
As modern life becomes increasingly hectic and crowded the space and freedom that North Cumbria offers is even more precious.
Situated between The Northern Pennines Area of Outstanding Natural Beauty and The Hadrian's Wall World Heritage Site this is the perfect location for a holiday. Something of a hidden gem, this area can feel less crowded at times than some other well visited locations in The Lakes area. Stunning scenery, walking routes full of scenic views, and plenty of historical sights all make for the perfect relaxing and restorative break away from it all.
Most outdoor pursuits are well catered for and when you tire of activity there is an excellent range of country houses and museums in the area. Also a wide variety of shopping from antiques to cashmere.
The possibilities are only limited by your imagination. We are situated near the end of the Northern Pennines and access into this Area of Outstanding Natural Beauty is quick and easy. This opens up mile upon mile of very quiet walking country, so very different to the crowds in other parts of the county.
The famous Hadrian's Wall Path is only 3 miles north of Farlam. The beauty of the countryside combined with historical interest makes it a unique experience.
In our office we have a large box of suggested walks. These guide you along a route with information on the area as you go – and so far we have not lost anyone!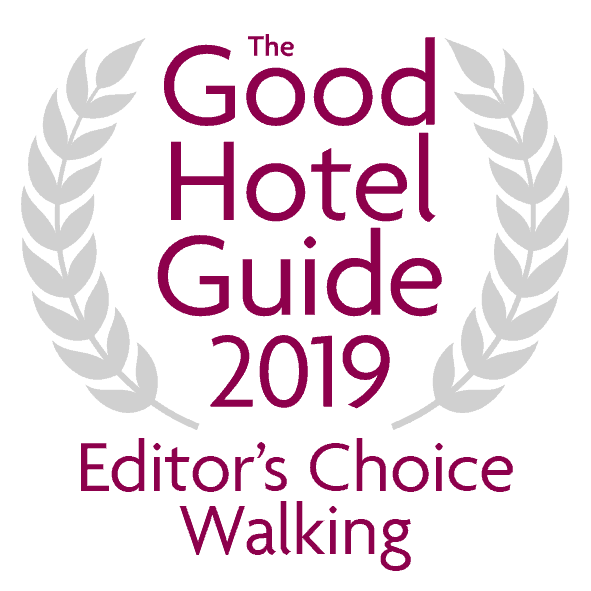 The walking in this area just keeps getting better. Before the Foot and Mouth disaster access to the land was a little unsure and without crowds of people to keep the paths open some were disappearing. Since that awful time every one is much more aware of the need for safe and easy access.
Farlam is ideally placed to explore the Western part of the wall.
Hadrian's Wall Path lies just 3 miles to the North of the hotel. This is an amazing walk and we are usually able to help with transfers in our area. Birdoswald is only 7 miles away and most of the major sites are between Farlam and Housteads which is 20 miles to the East.
Standing proudly in the city it has dominated for nine centuries, Carlisle Castle remained a working fortress until well within living memory. It has withstood many sieges, contained a valuable royal prisoner, and been home to the King's Own Royal Border Regiment. You can explore medieval castle rooms as well as 19th century military buildings, and visit Cumbria's Museum of Military Life.
Just down the road from the hotel is the beautiful Talkin Tarn Country Park. The tarn lies nine miles east of Carlisle and two mile south of Brampton on the B6413 Castle Carrock road. There is a 65 acre lake set amid 120 acres of farmland and woodland. The tarn is an ideal place for active recreation or a quiet stroll through the mature woodlands.
The tarn is glacial in origin, being formed about 10000 years ago, and is fed by underground streams. You can sail, windsurf, canoe or hire one of the wooden rowing boats. Fishing is available at the Tarn. There is a permanent orienteering course laid out around the park. The shop hires mountain bikes and there are suggested routes taking you through beautiful countryside. There is a 1.3 mile path round the tarn which is suitable for wheelchairs.
Weaving their way through the stunning countryside are various tracks and quiet lanes, some with hills, allowing cyclists to explore the sights and sounds at their own pace.
There is an excellent local bike hire centre in Brampton (Pedal Pushers) if you do not wish to bring your own. Farlam Hall is a perfect base from which to explore a variety of sustrans cycle networks around the local area, including Hadrian's Cycleway and the outstanding cycle routes around Haltwhistle.
The new Hadrian's Wall Cycle path is a fantastic way of exploring the wall. If you fancy mountain biking then Newcastleton to the North of us has a centre with adventure for all.
For those of you who are really fit then the cycling towards Alston is truly fabulous.
We have 3 completely different, great courses within 7 miles. Close by is Brampton which is hilly but beautiful, then there are Carlisle and Eden Courses. If you fancy combining a day out with golf then the championship courses at Slayley Hall and Matfen Hall or the links course at Silloth are perfect combinations. There is also a golf course at Alston, which is one of the highest in England.
At Carlisle Airport there are two flying schools offering pleasure flights and lessons on both fixed wing and helicopters. It is a truly amazing way of seeing the area at all times of the year.
Alternatively if you need help with your licence then Carlisle is ideal as there is no commercial traffic to wait for saving time and money.
Within 2 miles of the hotel are 2 trout fisheries which offer some really good and relaxing fishing. These are the New Mills Trout Farm and the Naworth Fisheries
For river fishing the Brampton Angling Association sell day or week permits at the local post office. This is for fishing on the rivers Irthing, Gelt and King Water. All of their waters are designated Sites of Special Scientific Interest and are in beautiful locations.
If you are interested in experiencing fly fishing with tuition then we can highly recommend Glyn Freeman from Cumbria Fly Fishing. He will create an experience to suit whatever your ability, aspirations and requirements maybe, whether you are just beginning or have been fishing for a while. You can find out more by visiting his website www.cumbriaflyfishing.co.uk.
There are several R.S.P.B. reserves close to the hotel. The newest one is about one mile away and their information centre is now open. They have also improved the access to the fells around Hallbankgate with parking and a map showing the trail.
The R.S.P.B. have a large reserve – Geltsdale – just 2 miles away. Here they have created excellent walking and it is part of the re-planting of Geltsdale Forest with native trees. At the moment they are only about waist high but it is fascinating to see.
The two reserves are so different they make for contrasting days out.
With advance booking, we can arrange for a local beauty therapist to come to the hotel.  Please discuss this with us at time of booking. Alternatively there is a very highly regarded beauty and massage salon just down the road in Brampton.
Guests preferring to stay in the hotel can relax in one of the lounges, enjoy the tranquillity of the gardens from the outside terrace with tea and homemade cake, maybe even treating themselves to one of our delicious afternoon teas.  Guests can also try their hand at a game of croquet on the front lawn – full equipment and instructions for how to play are available.
Other Services
AFTERNOON TEA
Enjoy a relaxing afternoon at Farlam Hall…
GIFT VOUCHERS
Create a fabulous gift voucher for any occasion.
WEDDINGS
Celebrate your happy day with us!